Here's what you'll learn: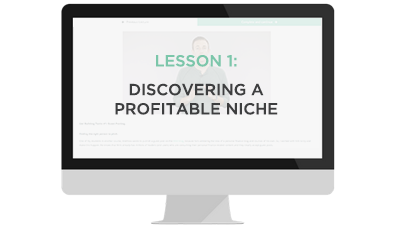 Lesson 1: Discovering a Profitable Niche Business Idea
Emerge with a well-defined niche business idea. We'll start by uncovering your strongest areas of interest. You'll examine your hobbies, how you spend your free time, your most meaningful goals, what you excel at and what you feel great doing. Therein lies the seeds for your best potential business opportunities. We'll reach out to friends and family using my copy/paste conversation scripts to get outside feedback on your strongest interests. We'll go through how to identify which areas of interest could lead to profitable niche opportunities & use my top research tools to estimate real market demand for your idea. Finally, we'll examine any potential fears and limiting beliefs that could be holding you back from pursuing something you're truly interested in (and we'll work towards overcoming them).
Lesson 2: Leveraging Your Skills & Outsourcing Weaknesses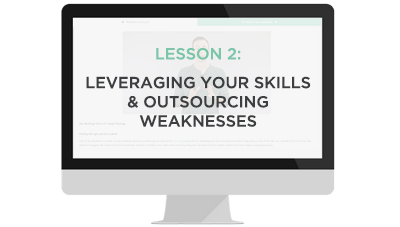 Identify your most marketable skills & how to use them for bringing your business to life. This lesson starts by discovering your most impactful soft and hard skills—we'll talk through the differences and how they'll combine together to give you unique advantages within your business. You'll break down your biggest wins in your personal & professional life, and examine the skills that help you excel. You'll use my conversation scripts to get input from friends and family on what some of our hidden strengths may be. Finally, we'll put in place a set of guidelines and criteria for deciding what you should outsource (and how to find that talented help), so that you're only spending time on the activities you're best at.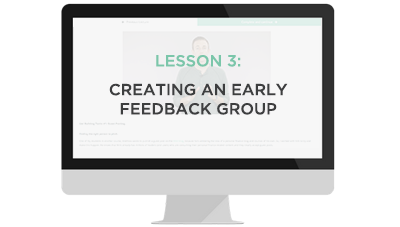 Lesson 3: Creating an Early Feedback Group
Get your first 25 - 50 email subscribers this week. This lesson starts by covering the extreme importance of having individual conversations with people in your target audience—to ensure that you're building something they'll actually want (and need). You'll go through the process of crafting an elevator pitch that quickly explains your idea. Next, you'll use my proven conversation scripts to start manually reaching out to friends, family, former co-workers, classmates and acquaintances to pitch your idea and keep track of everyone who indicates interest in getting updates your idea as it evolves. You'll get my downloadable spreadsheet template for tracking your new email subscribers.
Lesson 4: Developing a Competitive Advantage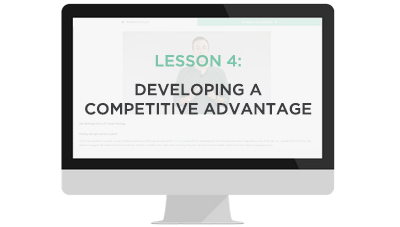 Clearly define what makes your business uniquely valuable within your industry. In this lesson, you'll start by going through a series of questions, prompts and conversation templates to ask your early feedback group, so you can determine exactly what they want (and need) within your niche. You'll dig into their biggest frustrations, uncover your competitor's weaknesses and learn how to best position your solution. Finally, you'll identify the very specific ways in which you can provide a more effective, efficient or unique solution for your target market—this will be your competitive advantage.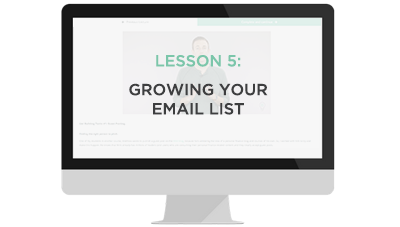 Lesson 5: Growing Your Email List Without Breaking the Bank
Grow your email list to 100+ subscribers (including people you don't know). In this lesson, we'll cover my top 5 strategies for quickly scaling your list building efforts beyond the limitations of just 1-on-1 manual outreach, without breaking the bank. You'll learn how to run giveaways (including how to hustle and get your giveaway items sponsored or discounted), how to tap into online communities and forums within your niche to build relationships, leveraging Facebook groups, Twitter chats and Instagram influencers to get more email subscribers who are interested in what you're building.
Lesson 6: Building a Proof of Concept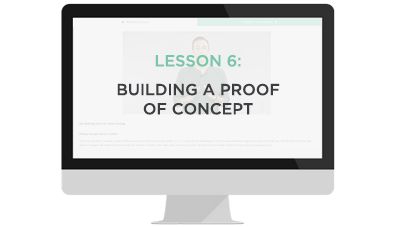 Build a simple proof of concept in 1 week without fancy tech skills or otherwise. This lesson starts by defining your proof of concept goal, usually a specific number of pre-orders that'll give you reasonable confidence in your solution—there's no replacement for getting customers to vote with their wallets. Next, we'll walk through 6 real proof of concept examples from successful businesses to illustrate all of the different (low-effort) forms a proof of concept can come in—based on your existing skills and outsourcing. Then, you'll outline exactly what your proof of concept is going to be, how you'll be building it & get feedback from us in the Facebook group.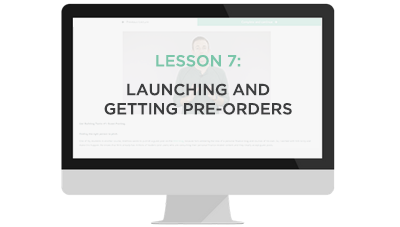 Lesson 7: Launching and Getting Pre-Orders
Launch your proof of concept to your email list and get your first 10 (or more) paying customers. This lesson starts by covering the basic tools and services you'll need to get set up with in order to accept pre-order payments for digital products, physical products, subscriptions and service offerings. Next, you'll start individually pre-selling via direct email conversations with your subscribers. We'll go through my one-on-one, Feedback to Pre-Order Email Sequence and you'll get my copy/paste email scripts for generating pre-orders before building your solution. Finally, we'll wrap up with how to pre-launch your solution to your full email list after you're ready to move beyond one-on-one pitches. You'll learn how to write compelling sales emails, see specific case study examples from my own product launches and you'll get my copy/paste launch email templates.